Genitourinary syndrome of menopause — or GSM for short — is an unbelievably-wordy umbrella term that encompasses various urinary, vulvar, and vaginal symptoms that occur during menopause.
We cover urinary symptoms in another page, but before we get to the vaginal and vulvar, let's do a quick anatomy review.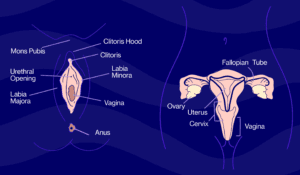 The vulva (above left) is your external genitalia and includes the pubic mound (mons pubis), the labia, the clitoris, and the openings to the vagina (aka the vestibule) and urethra. The vagina is a muscular canal that connects the uterus to the vulva. Both are affected by hormonal changes during the menopause transition, including:
Vaginal/vulvar dryness
Waning estrogen levels in menopause can cause a major shift in vaginal health. Vaginal pH increases and vaginal walls become thinner and more friable. This is what causes dryness and, in many cases, vulvar irritation at the entryway to the vagina. The tissue can be easily irritated, torn, and may start to bleed. The official term is "vaginal atrophy" (so retrograde-sounding, we know) or atrophic vaginitis. The skin of the vulva can also become dry and tender to touch — even wiping after urination may hurt.
Pain during sex
Vulvar irritation at the entrance to the vagina is a common cause of painful sex, but it's not the only one. Some women experience vaginismus, which is marked by painful muscle spasms at the opening of the vagina. The cause for this involuntary reaction may be a previous painful experience, which makes for a vicious cycle. For example, sex may have been painful due to dryness, so the next time you try to have sex, you'll instinctively tighten up, which causes pain…again.
Deep dyspareunia
Deep dyspareunia occurs when there is pain with deeper vaginal penetration (i.e., anything after initial penetration).
Thinning of the vaginal tissues and changes in the vaginal microbiome may also be the cause of burning with urination. To learn more about urinary conditions which can be common during the menopausal transition (e.g., urinary tract infections), bookmark this guide.
Why does this happen?
These symptoms are common in postmenopause due to low estrogen. With an increased pH, the vagina becomes less acidic — similar to how it was pre-puberty. This leads to changes in the vaginal epithelium, (the cells that line the vaginal walls) including thinning, decreased lubrication, decreased blood flow, and perhaps even a change in the entire vaginal microbiome. This can sometimes progress to a state of inflammation known as "atrophic vaginitis" with its attendant symptoms of irritation and even superficial bleeding.   
Vaginal symptoms can also start in late perimenopause, and unlike hot flashes or mood changes, do not get better over time without specific ongoing treatment.
We'll say it again: vaginal symptoms do NOT get better on their own over time without treatment.
These vaginal changes are normal – it's what happens as estrogen levels drop. So you can start with preventative practices and if symptoms do arise, then get help sooner than later.
A word about sex…
IMPORTANT!!! Sex should never hurt. Ever.
So if it does, it's important to consult with your healthcare provider (or Elektra) to discuss the issues and explore a wide variety of available treatments. Because in addition to impacting the enjoyment of sex for approximately 59% of women, vaginal and vulvar symptoms also interfere with our sleep (24%), general enjoyment of life (23%) and temperament (23%). And yet, despite these numbers, most of us do not discuss vulvovaginal health with our doctor due to embarrassment, the belief that nothing can be done, and/or the worry that it's not "appropriate" to discuss. And even though there are effective and safe, locally-applied hormonal options for most of us, less than 4% of women use them. For many, painful sex becomes the norm and, as you would expect, this can have a huge influence on libido.
We don't know about you, but we're ready to smash these taboos once and for all. Who's with us?
Dr. Anna Barbieri, MD
Pro tip #1
Vaginal health matters whether you're sexually active or not. By using a vibrator, dilator, or dilator at least once per week, you'll keep those muscles and tissues in shape to prevent narrowing of the vaginal walls. The obvious bonus is that it's fun, too!