For anyone interested in perimenopause and menopause health, the North American Menopause Society (NAMS)'s annual conference is basically the Superbowl of hormonal health conferences. This year we traveled to Chicago to meet with world-class experts, leading researchers, pharma execs, product innovators and more to learn the latest and greatest in the space. Everything we learned is going back into our Elektra development, but for now here are a couple gems we can't wait to share with you. For more research, check out part two of our NAMS series.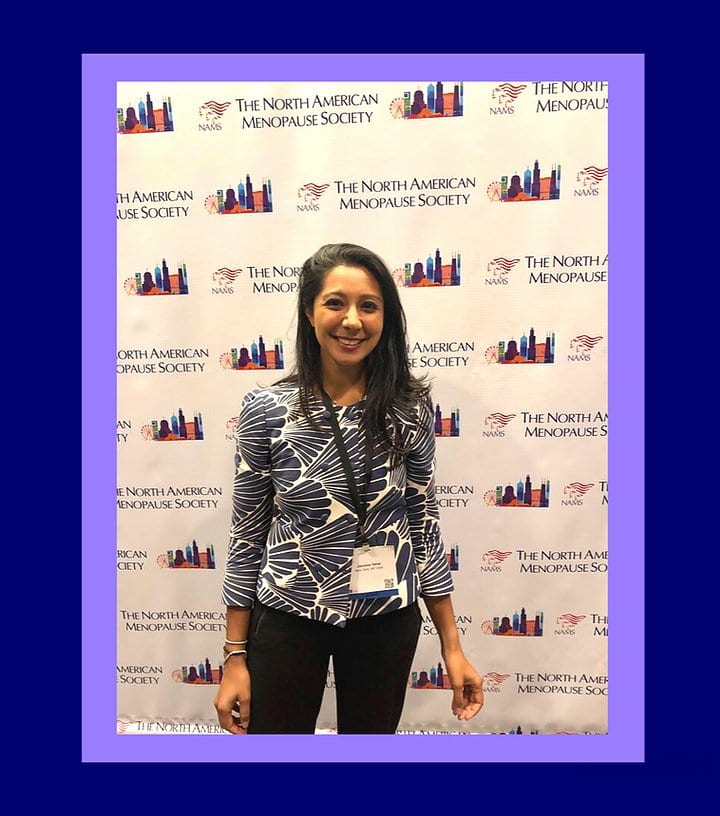 "If one fails, let's try another"
Dr. Risa Kagan is a practicing OB-GYN dismayed with the lack of women receiving treatment for genitourinary syndrome of menopause (aka GSM). A medical term for that vaginal pain, dryness and discomfort that affect roughly 50% of postmenopausal women. Sadly, only 7% of women are treated with prescription therapy despite having excellent treatments available. If you're experiencing GSM, pump the breaks on running to your local drugstore. Dr. Kagan warns that over-the-counter treatments are not as effective, can be messy, don't reverse GSM physiologically and can even interfere with quality of life.
Dr. Kagan recommends reaching out to your doc and trying different treatments until you find one that's right for you. Another tip from Dr. Kagan? It can be hugely educational for women to understand how your vagina changes over time, which is why she keeps a mirror in her exam room for all patients. Familiarizing yourself with your vagina can reap benefits to optimize for health!
"Promote a zoo in the gut"
Jack Gilbert, PHD is an expert on the micro-biome and emphasized that maintaining a diverse diet means that you have diversity in gut bacteria, which is essential to our health. I guess this means we have an excuse to try that kombucha! Speaking of healthy bacteria…
"PSA: Probiotics don't work for UTIs"
Dr. Caroline Mitchell of Massachusetts General Hospital put a stop to this myth. UTIs can be painful, uncomfortable and irritating. But probiotics won't help with any of these symptoms, even if the packaging looks incredibly convincing. Dr. Mitchell highlighted that most probiotics do not contain the most common lactobacillius species, AKA the healthy bacteria your vagina needs. Probiotics are often not FDA regulated and when they are tested, don't always contain what the product says it does on the label. Dr. Mitchell also says probiotics are not effective for vaginal yeast infections. Consult with your doc if you're having painful vaginal symptoms, irritation or itching before heading to the drugstore aisle.
"Sitting for many hours a day is an independent risk factor for many cancers"
Dr. Jewel Kling of the Mayo Clinic kept it real when it comes to mitigating cancer onset or mortality, and specifically breast cancer. Yes, there's a lot you already know: weight management, exercise, nutrition and avoidance of alcohol are key to prevention of breast cancer. Carotenoids and veggies can help prevent breast cancer. But many of us spend the majority of our days sitting inside, which is a risk factor. Can you get a standing desk at work? Or catch up with your friend over a walk? Dr. Kling says we all need to get more activity. In premenopausal women, vigorous activity is required; in post-menopausal women, any activity will do.
"For women, low risk drinking means no more than 3 drinks per day"
Dr. Connie Newman of NYU Langone Health shared important parameters we can all keep in mind when it comes to minding our alcohol intake. We did learn this week from Dr. Kling that 16.4% of breast cancer is attributable to alcohol consumption. Now before you shoot the messenger, that doesn't mean you have to give up your vino cold turkey (although if you're experiencing disruptive perimenopause & menopause symptoms, you should consider scaling back). It does, however, mean you should aim to stay within low-risk drinking levels. For women, that means no more than 3 drinks per day or 7 drinks per week.
We're still absorbing all of the cutting-edge research and science on perimenopause and menopause learned at the NAMS conference, so stay tuned for part II of this series!