At Elektra, we're committed to giving you the latest and greatest evidence-based information on all things women's health. To ensure everything we share with you is au courant, we flew out to Chicago to attend the North American Menopause Society's annual conference, where renowned experts, doctors, scientists, and other providers and advocates for women's health gather together to share new research, information and treatments related to menopause.
Here, we're distilling down some of the key takeaways to ensure that you, our Elektra community, have access to the most cutting-edge research around.
Elektra Health Co-Founder (right) caught up with NAMS Founder Dr. Wulf Utian
The Miseducation of Women's Health: Why History Matters
Dr. Wulf Utian has been an advocate and champion for women's health his entire career. Starting fifty years ago when he first publicly spoke out in a South African medical journal that "several questions [around menopause] urgently require answers." Dr. Utian's questions included: are the manifestations of aging directly related to diminution of circulating sex hormones? Do oestrogens have a direct effect on the psychological state and sense of well-being in the post-menopausal patient? (Psst: we're still working these out today). At the time, there was little research around menopause and much of it was framed emotionally or philosophically, rather than rooted in hard science and evidence.
Meanwhile, back in America doctors were referring to menopause as:
"a syndrome that seems unnecessary for most of the women in the civilized world…" and that with medication, "such women will be more pleasant to live with and will not become dull and unattractive." – Dr R. Wilson and Dr T. Wilson, 1972.
Yes, you read that right. That quote was from 1972…
Dr. Utian was so passionate about the need for serious and rigorous scientific study of menopause that he founded the North American Menopause Society (NAMS) 30 years ago to "advance enhanced quality years for women." Dr. Utian and his colleagues believed it was absolutely critical that NAMS be multidisciplinary – drawing on a range of medical disciplines beyond gynecology and endocrinology – from the start. We thank you, Dr. Utian, for your foresight, passion and relentless dedication to advancing the field of menopause.
Fun fact: Dr. Utian also performed the world's first surrogate IVF procedure in 1984 in Cleveland.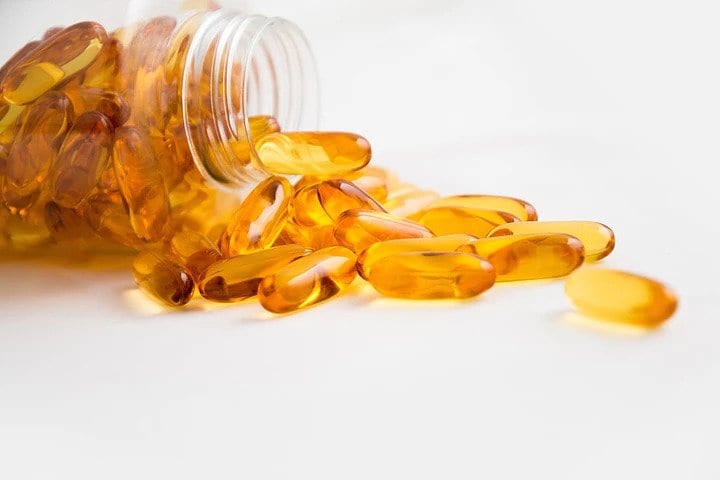 Fish Oil linked to Lower Risk of Cardiovascular Disease; Vitamin D Associated with Improved Cancer Mortality
We're upping our intake of Fish Oil & Vitamin D after learning about this new study from Dr. JoAnn Manson of Harvard's Brigham and Women's Hospital in Boston.
Over 26,000 men and women participated in Dr. Manson's five-year study that demonstrated fish oil can reduce risk for cardiovascular disease. The benefit from regular fish oil intake included: fewer heart attacks, especially for African-Americans as well as those who don't consume fish regularly. You may also want to consider adding an additional serving of fish to increase your vitamin D intake, as the study also revealed a "statistically significant" link between Vitamin D and a decrease in cancer mortality.
According to Dr. Stephanie Faubion, Medical Director for NAMS, heart disease and cancer "represent the most significant health threats to women; it is imperative that we continue to study the viability of options that prevents these diseases and help women survive them." Amen!
Frequent, Persistent Hot Flashes Linked to Cardiovascular Risk
For most women, hot flashes are synonymous with menopause. More than 70% of women experience hot flashes and night sweats (technically referred to as "vasomotor symptoms") with around 30% of women experiencing severe 'flashes. Rebecca Thurston, PhD and director of Women's Biobehavioral Health Laboratory at the University of Pittsburgh warned that more severe hot flashes may be linked to cardiovascular risk.
Dr. Thurston, who presented her study at the conference, followed 3,000+ women aged 42-52 for over twenty years and found that, although the relationship between severe hot flashes and cardiovascular disease is not directly causational, cardiovascular risk was 80% higher in women who reported persistent hot flash symptoms.
While this sounds scary, Dr Thurston does NOT want any women to freak out at their first hot flash. Lifestyle changes (more greens, less meat, reduce alcohol, kick that smoking habit, get active!) and connecting with an experienced practitioner are the best approach to staying heart healthy, no matter what.
Self-Silencing is Not Good for the Heart
Self-silencing means to suppress emotions, refrain from expressing one's emotions in a relationship or feelings or prioritizing the needs of others above your own, typically in an intimate relationship. Dr. Karen Jakubowski from the University of Pittsburgh researched the link between self-silencing and cardiovascular disease.
Studying women aged 40-60, Dr. Jakubowski found that women who self-silenced were 14% more likely to have higher levels of "heart plaque", which is not good for heart health.
The lesson here? Keeping your feelings to yourself – especially in an intimate relationship – is not good for the heart, emotionally or physically. Dr. Jakubowski's message was clear: speak up. Nurture your voice; surround yourself with people committed to respecting your feelings and do not silence yourself in an intimate relationship. If you need someone to reach out to, text CONNECT to 741741 to connect with a counselor from the Crisis Hotline.
KEEPS Study Provides Reassurance to Women Considering Hormone Replacement Therapy
Everyone was on the edge of their seats when the highly anticipated results from the Kronos Early Estrogen Prevention Study (KEEPS) were presented during the NAMS conference by Dr. Virginia Miller of the Mayo Clinic.
The randomized study involving over 700 women found that estrogen/progesterone treatment (or hormone therapy, often referred to as HT) started soon after menopause appears to be safe and reduces many symptoms of menopause, such as hot flashes, night sweats and mood instability. The KEEPS study also showed that HT had a positive effect on sexual function, improving lubrication and reducing pain. Likewise, there was a positive impact on bone density. Researchers pointed out that the age at which women began treatment was incredibly important, as do the type of hormones included. Not all estrogens and progestins are created equal, and precision and close collaboration with a medical practitioner is key to effective treatment.
The connecting thread throughout the NAMS conference is that there's no-one-size fits all approach to women's health, *especially* for perimenopause and menopause. If your doctor makes you feel this way, you might consider finding a trained and tested NAMS certified practitioner. You can find one in your area here.