We recently hosted a salon event with New York's top leaders, executives, healthcare providers, and founders. The topic: modernizing women's health in the workplace.
Why? Because it's 2023. We've modernized so many other elements of the work experience — no more typewriters or rolodexes or floppy disks or landlines! And yet, the state of women's health benefits is woefully stuck in the past. That needs to change.
Our attendees included leaders from Astellas, the Ford Foundation, Mount Sinai, Pfizer, Ernst & Young, Planned Parenthood Federation, EverBody, and Eden Health. We heard from three esteemed speakers:
Carol Huffman (VP of Strategic Partnerships at EmblemHealth)
Navya Mysore, MD (National Program Medical Director of Sexual & Reproductive Health at One Medical)
Jennifer Weiss-Wolf (Executive Director at Birnbaum Women's Leadership Center at NYU Law)
The result was powerful. Women (and men) around the room committed to being the catalyst in making menopause care and education accessible to everyone by discussing menopause at work, seeking out menopause-certified providers, and being our most vulnerable selves.
TL;DR Check out our NEW 3 Step Guide to Advocating for a More Inclusive Women's Health Environment at your Workplace [2 min read].
The takeaways
Menopause care is primary care
As a primary care physician, Navya Mysore, MD, explained that her menopausal patients can present in many different ways – insomnia, hot flashes & night sweats, mental health issues, GI disorders, joint pain, painful sex, irritability, and more – but the one common thread among these patients is the sentiment, "I don't know what's happening to me, something is not right." Dr. Mysore stressed the importance of providing individualized treatment and advocacy to these patients and that healthcare providers as a whole should be better educated about menopause and better equipped to help women in this phase of life. 
That said, we know every provider can't be a menopause expert. That's why Elektra has created resources for providers and patients, including our 21st Century Guide to Menopause to help women understand what this transition often entails, symptoms, treatments ranging from lifestyle to medication, and more.
Storytelling is a key change maker
As Jennifer Weiss-Wolf, author of Periods Gone Public: Taking a Stand for Menstrual Equity and advocate for menopause policy change said, "storytelling is a key change maker. My life has never been better since I started talking about menstruation and menopause publicly." 
It's hard to be vulnerable at a time when we have so many responsibilities – caring for our children or parents, performing at work, maintaining relationships with friends and family, and managing our day-to-day lives. However, as we heard Dr. Mysore say, "when people are talking more, change happens. We just need to be able to share more and communicate more and that comes from being vulnerable."  
Taking a cue from Dr. Mysore, later that evening, our guests wrote down and shared the taboos we want to talk about in 2023. By the end of the night, we saw women holding signs that read "vaginal dryness," "low libido," and "I'm having a hot flash right now!"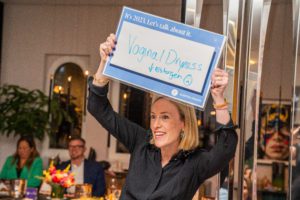 You don't know until you ask
Carol Huffman said it best: "As an employee, you don't know until you ask. If you don't put yourself out there and ask your HR leaders about what you get for benefits, you just won't know." 50 million women are navigating menopause in the workforce and 44% of women feel they don't receive enough support from their employers. 20% of women have left or considered leaving a job due to their menopause symptoms.
Women's health doesn't end with fertility. Our health needs change as our hormonal health evolves through the reproductive window. We deserve better, and when employers step up, it makes a difference to health outcomes and quality of life which improves retention, boosts productivity, and decreases absenteeism. Leading organizations support women in the workplace at every stage of life with the help of Elektra. 
"With Elektra, now you've got something to ask for," and "when you go to your HR folks, you can say 'look, it works.' Follow the money, find out where it's being spent at your company, and ask for it. You might be surprised that a year later, you're sitting with your HR lead talking about vaginal dryness." – Carol Huffman
Ready to take action?
This actionable, 3-step guide will give you the tools you need to advocate for a more inclusive workplace. It includes information on:
How to start the conversation with an educational event
How to continue the conversation by identifying a dedicated menopause champion and/or channel
How to advocate to expand your benefit offerings
Interested in getting more involved? Contact  [email protected].
Many thanks to our fantastic sponsors, Astellas & CKBG (Komos tequila, Doladira), for enabling such an intimate and special evening.