"Sleep problems" is an umbrella term doctors use to describe what many women experience during the menopausal transition.
It encompasses everything from trouble falling asleep to the inability to stay asleep. Disorders such as chronic obstructive sleep apnea also qualify, which we'll dive into in more detail below.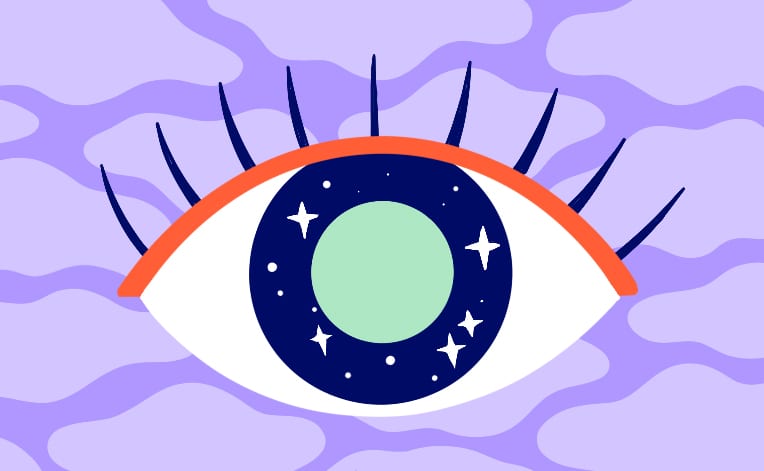 While hormones can play a role in sleep, not all sleep issues women experience during menopause are due to menopause-related hormones. We can't underestimate all of the other factors that come into play: aging, stress, diet, behaviors. It's no wonder so many women report sleep issues, even those who slept like babies for their entire adult lives.
Why does menopause affect sleep?
Hormonally speaking, there are two forces that can create the perfect storm: menopause and aging.
Our bodies use this natural hormone to regulate the circadian sleep-wake cycle. When levels decrease with aging, it affects the regulation of our internal clocks.
Cortisol is a key stress hormone, and when levels increase due to aging and stress, it can prevent quality sleep.
When we age, the number of receptors for our "happy hormone," our bodies use as a mood stabilizer, decreases, which may be a risk factor for anxiety and depression (both of which inhibit sleep).
Estrogen works behind the scenes to decrease sleep latency (aka the amount of time it takes to fall asleep) and the number of times you wake up throughout the night — in addition to increasing total sleep time. Estrogen also has a complex relationship with serotonin, so declining estrogen levels can be associated with less serotonin action. In addition, estrogen regulates our body temperatures at night. Unfortunately, as you know, estrogen levels only decrease during menopause. (*facepalm*)
In early perimenopause, progesterone drops even faster than estrogen does and, due to its relaxing functions, can lead to disrupted sleep, especially sleep fragmentation.
Fluctuating hormone levels, in turn, cause things like hot flashes, night sweats, depression, anxiety, and stress, which also impact sleep.
It's a classic catch-22. You need a good night's sleep (7-9 hours, to be exact) to feel better, but the hormonal powers that be aren't in your favor, which makes it feel like you quite literally can't sleep well. And when you don't sleep well, it only exacerbates a whole slew of other menopause symptoms (low libido, weight gain, anxiety).
So if you're thinking, this is SO unfair, we'd be right there with ya. But we'd also tell you that there are specific, totally doable ways to improve your sleep and overall quality of life that center around behavioral change and rethinking routines.
In certain cases, when you feel like you've tried everything under the sun and are still not getting proper sleep, your healthcare provider may step in — especially if you're struggling with chronic obstructive sleep apnea, which is marked by abnormal breathing, specifically extended pauses in breath during sleep due to an upper airway obstruction. This is what differentiates it from the less common "central sleep apnea," which occurs when your brain simply doesn't send the correct signals to the muscles in charge of breathing. You may not know you have it — oftentimes, the only symptom is feeling tired even though you may be sleeping through the night. It affects postmenopausal women 2-3x more than premenopausal women due to decreases in the two primary reproductive hormones: estrogen and progesterone, and the role they play in maintaining tone in throat muscles. If you suspect that you may have sleep apnea, your doctor can screen for it and may refer you to a sleep specialist or suggest you enroll in a sleep study.
Even if you aren't suffering from sleep apnea, it may be worth consulting your healthcare provider if you identify with one (or several) of the following:
You experience marked daytime fatigue that interferes with work/home responsibilities.
You worry about falling asleep while driving or doing inactive things (e.g., watching television or attending a meeting).
You feel the need to nap most days.
Dr. Anna Barbieri, MD
Pro tip #1
Waking up in the middle of the night is as common as it is frustrating. Here's our step-by-step approach to address middle-of-the-night scaries brought on by sleep disturbances.
1. Start with this breathing exercise.
2. If that doesn't do the trick, try a body scan to calm you from head to toe.
3. If, after 30-45 minutes, you're still not tired, get up and move to a chair — but keep the lights dim. Sit there quietly until you feel tired, then return to bed.