Beyond World Menopause Month, you may have also noticed that pink ribbons are everywhere. Yes, October is also breast cancer awareness month. Since these topics are so interrelated, we've put together a short primer on the link between breast cancer & menopause. In part two, go deeper on metastatic breast cancer, a side of the story that too often goes untold.
The link between breast cancer & menopause
Did you know that common breast cancer treatments can mimic menopause and sometimes cause premature menopause? For premenopausal women, chemotherapy affects the ovaries, halting production of estrogen and progesterone. Doctors often call this "chemically-induced menopause." For some, this may be temporary and their cycles may return after chemotherapy stops. For others, menopause may be permanent.
In some cases, women with breast cancer, as well as those with gynecologic cancers, will have their ovaries removed as part of treatment. For premenopausal women, this is referred to as "surgically-induced menopause." For context, breast cancer and endometrial cancer are the first and fourth most common cancers in women, respectively. Overall, over 110,000 women are diagnosed with gynecologic cancers each year, while 276,000 women will receive an invasive breast cancer diagnosis.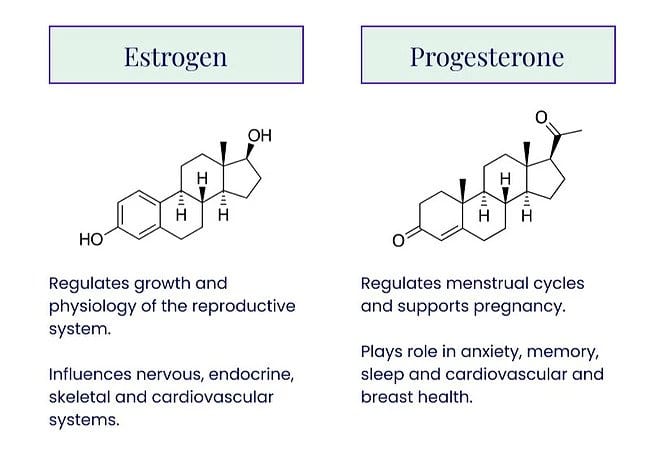 And because 85% of breast cancers are fueled by hormones, estrogen blockers are another common treatment that most women will take for 5-10 years. Their common side effects are menopause-like symptoms: hot flashes, vaginal dryness, and more. Even women who are premenopausal can experience these, and for women who are long past the menopause transition, they can start to experience them again. Double whammy.
How to manage menopause as a breast cancer survivor
For those women with "hormone-positive" breast cancer, i.e. specifically susceptible to estrogen and progesterone, hormone therapy (HRT) won't be an option for symptom management. But that doesn't mean you're without options. Rest assured that if you're a breast cancer survivor, there are effective non-hormonal alternatives to address symptoms and to stay healthy & supported without HRT, including over-the-counter supplements, lifestyle recommendations & more.
Separately, there are women without a history of breast cancer who could significantly benefit from HRT but who don't take it because of a (now-outdated) 2002 WHI study that suggested HRT led to increased breast cancer risk. Read below for why that is outdated.
TL;DR HRT is generally not recommended for breast cancer survivors, but if you don't have a history of the disease and are curious about whether hormone replacement is right for you, discuss with your provider or book an appointment with an Elektra expert to go deeper.
Myth-busting: does HRT cause breast cancer?
Last but not least, we get countless questions from women asking if HRT can cause breast cancer. As mentioned above, HRT got a bad rap in 2002, when prematurely published findings of a massive study – the Women's Health Initiative (WHI) – suggested that HRT usage lead to a higher risk of heart disease, blood clots and, yes, breast cancer. This set off a media uproar and led many women – and doctors – to abandon HRT practically overnight.
What many failed to notice, however, was that the sample group used in the initial WHI findings were already in a high risk category in terms of age & health. In fact, a significant group of WHI subjects saw improved health outcomes on HRT (e.g. decreased breast cancer).
Fast forward to 2020 and hundreds of follow-up studies later, we now know that HRT is safe and effective for many women, especially when started prior to age 60 or within 10 years of menopause. But a bad reputation is hard to shake, and the fear of HRT persists.
An important note on HRT: As with all medications, there are risks that have to be carefully weighed in the context of an individual's needs, goals and health history. As outlined above, HRT is not a good option for some, including those with a history of breast cancer, as well as blood clots, cardiac or liver disease. Furthermore, women are complex creatures, and should be evaluated on an individual basis, with a deep understanding of our symptoms, history, and lifestyle. If you're HRT curious, ask your existing provider or email Elektra at [email protected] – we're here to provide answers.
Metastatic cancer, breast cancer awareness & real stories from real survivors
The intersection of menopause and breast cancer is complicated. In an effort to further smash taboos in women's health, we invite you to go deeper into another stigmatized part of the breast cancer story: Shining a light on metastatic breast cancer.