As part of our October Breast Cancer Awareness month series, Elektra Health is shining a light on the complicated intersection of menopause and breast cancer. Part I focuses on the close link between these two important areas of women's health.
Below, read on for part II: a deep dive into a stigmatized part of the breast cancer story that doesn't get told nearly often enough: metastatic breast cancer.
What is metastatic breast cancer?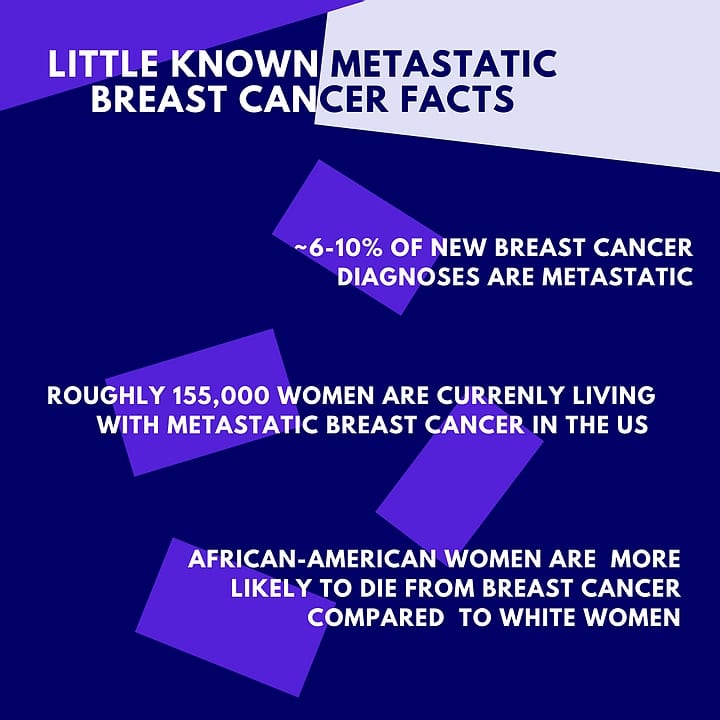 Metastatic cancer is when cancer cells start in one place – in this instance the breasts – and then spread to a distant site in the body (typically, the brain, bones, lungs and liver).
Over a quarter of a million women will be diagnosed with invasive breast cancer in 2020. Of those 276,000+ women, approximately 6-10% will have metastatic cancer – or stage IV – at the time of diagnosis. And up to 30% will progress to metastatic at some point after diagnosis. Tragically, nearly all women diagnosed with stage IV disease will eventually die from it.
Inequities in metastatic breast cancer research
Even though metastatic breast cancer is the breast cancer that kills, it only receives 2-5% of research funding. Most research, funding & resources focus on breast cancer prevention. While that's important and deserves more work, it does not help those with stage IV. Some women with metastatic disease feel left out by established breast cancer communities and the specific language used – i.e. "pink-washing."
It's important to call out the racial disparities here as well. Black women have a 40% higher chance of dying from breast cancer than white women. While more white women are diagnosed with the disease, more Black women die from it. Black women are less likely to be diagnosed at an earlier stage. And they are more likely to be diagnosed with a more aggressive variant.
Paving the way to a better future
While the statistics are bleak, we're buoyed by a growing movement of patient and healthcare provider advocates who are using their experiences and expertise to raise awareness, take charge, and affect real change. We're pleased to highlight some of these incredible women on the Elektra blog.

Sheila McGlown
Sheila McGlown was diagnosed with metastatic breast cancer in 2009 at age 43. A 25-year veteran of the United States Air Force, Sheila's been an active advocate with numerous organizations including Living Beyond Breast Cancer, Young Survival Coalition, the Metastatic Breast Cancer Project, and the National Breast Cancer Coalition. She has been sharing her story for years, working to help other Black women get appropriate cancer care:
"I am most proud of being a voice for the silent, a voice that would otherwise be hidden. In the breast cancer space, Black women's voices are sometimes silenced because of the color of our skin. We are too loud, our symptoms are not the same or dismissed, and we aren't given the same treatment option opportunities our white counterparts have.
I want to shut down all those myths and give every woman the opportunity to have the same standard of care that each and every breast cancer patient has when walking into a doctors office. Being a Black advocate has opened many doors for so many women who would otherwise be scared or frightened to share their story. We need to continue to have an open dialogue about breast cancer and use the power within us to enact change. Diagnosed with MBC 10 years ago I had to find my way through a diagnosis I knew nothing about. I think I'm just proud of LIVING. I'm LIVING with MBC while also helping others."

Julia Maués
Julia Maués was diagnosed with breast cancer seven years ago at age 29, when she was pregnant with her son. After his birth, she learned her disease was stage IV. Julia's advocacy focuses on disparities and inequities in breast cancer outcomes in underserved groups such as those living with breast cancer brain mets and Black women. She cofounded GRASP, runs her own website It's Not Pink and is involved with several organizations, including Living Beyond Breast Cancer, Susan G. Komen, and The Right Dose.
"I want everyone to know that metastatic breast cancer is not a different disease than earlier stage breast cancer, but just a stage of the disease, the most advanced one. Even though the earlier you find breast cancer, the better the odds of survival are, it's never a guarantee that it won't metastasize. There is always the possibility that breast cancer can spread and researchers don't completely understand why. More research is where we need to be focusing our attention and funding. Breast cancer isn't pretty, it's a terrible, deadly disease.
I'm most proud of the work I've been doing bringing patients and researchers together. I cofounded GRASP, Guiding Researchers and Advocates to Scientific Partnerships, to do this – to have the experts in science work with the experts in living with cancer – patients. By working together and learning from each other, we can drive more meaningful and fundable research that leads to faster and more impactful progress to improve treatments.
Many researchers are working in labs and never get to meet patients. It's a hard job – they aren't in it for money or fame, they work long hours, they constantly have to worry about funding, and most of the time, their research studies fail, but they go in day after day and work so I can live.
People with cancer like me are the reason they keep at it. One time I got a message from a scientist after meeting him at a conference, and he told me that I inspired him to return to his lab to continue his work. How amazing is that – to inspire someone?"

Ricki Fairley
Ricki Fairley was diagnosed with stage IIIA triple negative breast cancer 8 years ago when she was 55. She is the founder and CEO at Touch, The Black Breast Cancer Alliance, involved with several breast cancer advocacy organizations including the Triple Negative Breast Cancer Foundation, and in April of this year, she started a web series called The Doctor Is In, streaming on BlackDoctor.org.
"It's important to know that Black Breast Cancer is a different and distinctive disease.
Black women have a 31% breast cancer mortality rate – the highest of any U.S. racial or ethnic group*
Black women are 42% more likely to die of breast cancer*
Black women under age 35 get breast cancer at two times the rate of white women and die at three times the rate**
5-Year survival is 81% for black women vs 91% for white women**
Black women are more likely to be diagnosed with triple negative breast cancer, which is a more aggressive disease with fewer treatment options.
Not only is breast cancer more biologically aggressive in African American women, the disparity in breast cancer mortality also reflects social barriers that disproportionately affect Black women via poverty, cultural and social injustice barriers across all disease phases: prevention, detection/incidence, treatment, post treatment/quality of life, and survival/recurrence/mortality.
I am most proud of bringing focus to the differences and distinctiveness of Black Breast Cancer and most recently my new web series, The Doctor is In, where we talk about all things breast cancer. (The Doctor is In airs via Facebook Live on the BlackDoctor.org's Facebook page on Wednesdays at 6pm EST. Additional shows are airing on Sundays at 3pm EST during October.)
*Breast Cancer Prevention Partners **American Cancer Society"

Leslie Waltke, PT, DPT
Leslie Waltke is a cancer rehabilitation specialist. She treats patients, educates and consults worldwide, and built and now runs one of the largest cancer rehab programs in the country, which she built. She most recently founded The Recovery Room, a free educational video series for patients, on Facebook and YouTube.
"One of the proudest days of my year is triathlon day. No, not my triathlon day, but triathlon day for a team of cancer survivors I help support as an oncology physical therapist. And what I love the most, is many of those coming across the finish line with huge smiles and arms raised overhead, have metastatic breast cancer. Yes, swimming, biking and doing a 5K with bone mets, liver mets and brain mets (metastases).
While exercise is important for all breast cancer survivors; exercise is absolutely critical for people with metastatic breast cancer. We know exercise leads to stronger muscles, stronger bones, a stronger heart and lungs as well as less pain, disability, anxiety and depression and less fatigue. As a matter of fact, the leading treatment for cancer related fatigue is exercise. A physically stronger person with a stronger heart and lungs is able to better sustain treatment and may get more treatment options.
Living with metastatic breast cancer is like running a marathon that has no finish line; it can come with physical impairments resulting from both the disease and the treatment. Please seek a physical therapist to help minimize the bad and maximize the good. When people are forced to live with metastatic disease, it is our responsibility to help them live well with metastatic disease."
What can you do to raise awareness?
Metastatic disease deserves more funding, research, and resources and those living with stage IV disease need more resources and support. You can help:
Support organizations that provide support, programming and education to those living with metastatic disease, funding metastatic-specific research, or advocate for the metastatic community, like
Tell your representatives in Washington, D.C. to support the Metastatic Breast Cancer Access to Care Act (HR 2178/S.1374), which would enable those with metastatic breast cancer to access disability and federal healthcare benefits earlier. Currently, patients have a 5-month waiting period for Social Security Disability Insurance and a 24-month waiting period for eligible Medicare benefits. To learn more and send your representatives an email, click here.
References:
Metastatic Breast Cancer Network