Every day, over 50 million women are navigating menopause in the workforce. But how does menopause actually impact their professional lives?
To better understand the current experience of menopausal women at work, Elektra surveyed 2,000 professional women in the United States, age 40-55, including managers, directors, and C-suite executives.
As companies grapple with what it means to support women's health at work, Elektra Health Menopause In The Workplace Report reveals the dire need for resources that empower women throughout all stages of their hormonal health journey. Menopause can take a serious toll on women's physical and mental health, lead to women missing significant periods of work, or even leaving the workforce entirely.
This issue can no longer be overlooked: women in menopause deserve better. 
The impact of menopause symptoms
1 in 3 women report menopause negatively impacts work performance.
During the 7-10+ year menopause transition, 1 in 3 women report menopause negatively impacts work performance, and 2 in 3 women report menopause negatively impacts their lives. 
The mental health implications of menopause are significant: 67% are concerned when it comes to the impact that menopause has had on their mental health, and 36% report that menopause symptoms have exacerbated their anxiety.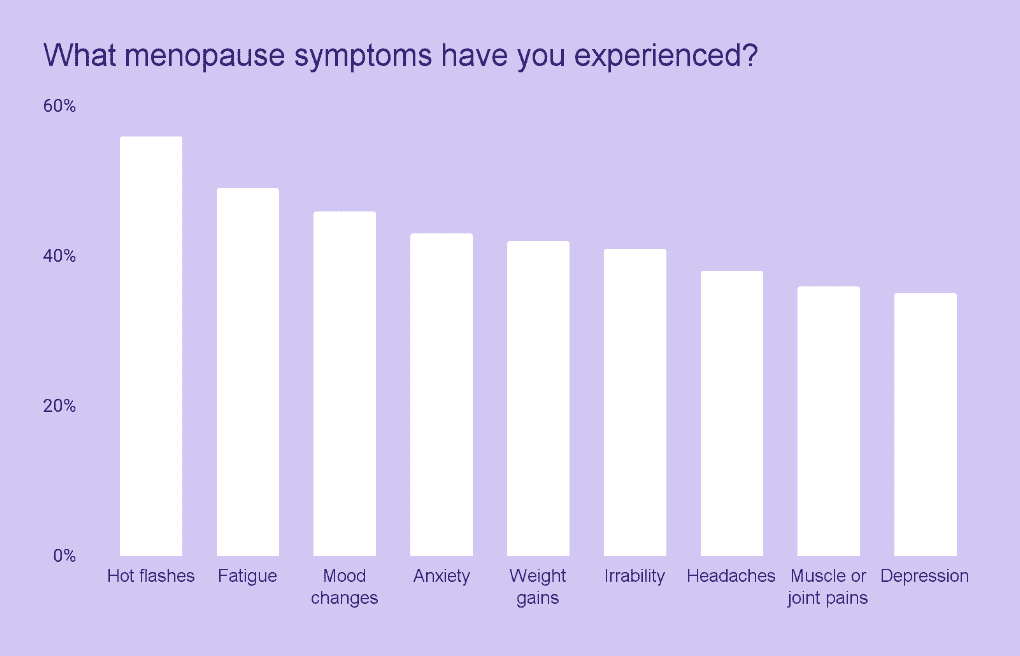 Out of the 30+ symptoms of menopause women most commonly experience hot flashes, fatigue, mood changes, and anxiety. 87% reported experiencing at least one menopause symptom in the workplace.
Women's careers are severely impacted
The symptoms of menopause, compounded with the lack of employer support, fosters a workplace environment that neglects women in menopause. Whether it's having to miss a day of work or not being able to pursue a promotion due to their symptoms, the career advancement for women in menopause is often restricted.

have left or considered leaving their jobs due to menopause symptoms.

have not pursued a promotion because of menopause symptoms.
Menopausal needs are often overlooked
From employers to insurance to provider networks, the survey reveals a widespread lack of menopause support, often impacting women at the height of their careers. Many women feel left out because their employers are neglecting to include it as a health benefit, especially when compared to the reproductive or fertility benefits.
44% of women feel they do not receive enough menopause support from their employers.
35% report feeling left out of employers women's health benefits because there is no support catered to their menopause needs.
56% report menopause support is lacking relative to reproductive or fertility benefits
What resources do women want?
While no two women have the same menopause experience, most women desire a multi-faceted solution that includes inclusive work policies, structured support, and expert education.
62% of women would find support from an employer helpful if there were more flexible work policies (38%), trainings (26%) or support groups (15%).
Further, 74% would find support from an expert platform helpful if there were personal care recommendations (82%), education (80%) and expert-led groups (68%).
Research shows that untreated hot flashes alone may cost billions of dollars each year.
However, the financial burden of menopause does not fall on women alone: the survey revealed that 1.8M women dropped out of the workforce since 2020, with turnover costs approximating 33% of an employee's salary (~15K per year). 
Menopause workplace support is long overdue
Perhaps you've had conversations with female co-workers next to the water cooler, uttering the word "menopause" in hushed tones. Maybe you've traded tips on tricks on dealing with hot flashes in board meetings.
Or, more likely, the topic of menopause has not made an appearance in your workplace whatsoever.
After working with thousands of women in menopause, our findings confirm our understanding of the immense impact menopause can have on women's personal and professional lives and the need for workplaces to finally prioritize this issue.