Elektra Health works with select menopause providers to offer world-class, evidence-based care to women across the US.
---
Let us complement the care you provide women navigating the menopause transition with our multifaceted, evidence-based virtual platform that includes:
> Educational programming covering the basics of the menopause transition:
Biology
Emotional, cognitive, and physical symptoms and how to manage them
Lifestyle practices and behaviors promoting health and wellness
> Health coaching to implement lifestyle behavior changes.
> A private community gives women the space and social support they need so they don't feel alone.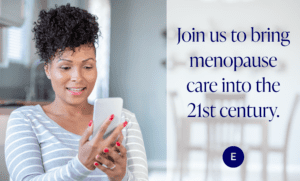 Interested in learning more about what Elektra is all about? OR becoming an Elektra expert provider?
We'd love to hear from you!
Click on Join Us below and a member of our clinical team will be in touch.