Leslie Howard is a yoga practitioner with over 20 years of yoga teaching experience. Following her own journey with hypertonic pelvic syndrome, Leslie has taught women of all ages to practice yoga to alleviate pelvic floor conditions, including urinary incontinence and pelvic pain. Leslie is currently the director of the Piedmont Yoga 200 Hour Teacher Training program and has studied intensely with top-tier teachers in the Iyengar Yoga Institute.
Where are you in your hormonal health journey? Is there anything you wish you'd known about menopause before you you began your journey?
You don't know which type of menopause you're going to get. Your menstrual cycle or your mother's experience may offer some insight. 
I didn't know what to expect. The biggest surprise was how bad my hot flashes were. I'd be in the middle of a presentation when a hot flash hit me, and suddenly I'm on fire. For any woman who's experienced this, you can feel your face getting wet and you're like…this is so embarrassing. 
To lighten the mood, I eventually decided to announce at the beginning of workshops or classes, "I might have a hot flash."
Menopause can be seen as a rite of passage and common connector of the female experience. What wisdom or advice would you like to share with other women who are entering or about to enter menopause?
Every menopause is completely different, and no two people have the same experience. Even for my best friend, who's the same age as me and also endured really bad hot flashes–what worked for me did not work for her. For example, I remember telling her about my discovery of red clover tea nettles. When she tried it, it didn't make any difference. We both had to try a bunch of things to figure out.
When one or two recommended treatments don't work for you, don't stop exploring. There are so many different things that work for different people.
Have you made any major changes to your routine at any point in your menopause journey?
At first, I thought to myself, "yee haw, I don't have to use birth control!" But two years into menopause, things started changing for me. Lubrication and fragile vaginal tissue became an issue. Coming from my history of pelvic floor problems, I knew that pelvic floor massage could help. When you think about it, it makes sense! Men require have blood flow to have an erection; it's the same thing with our architecture. 
The best homework I got from a pelvic floor physical therapist was to have more orgasms and figure out what feels good, even if that's changes over time.
When someone says they've stopped having sex in menopause, I feel strongly that they should reconsider the nuances of sexuality. Touch and affection are an important part of sexuality, even if it looks a little different than it did in our past. We can still explore touch and not only the act of sex. 
Regarding my diet, I've steered clear of red wine and spicy food for the past eight years. 
You specialize in pelvic health, which can be a big concern for women going through menopause. What advice would you give someone going through menopause experiencing pelvic pain or incontinence?
So many women at my workshops are like, how come I've never thought of my pelvic floor? If you're open to doing a yoga workshop focused on your pelvic floor, it can give you a good baseline for understanding your anatomy. 
If you're experiencing incontinence or any type of pelvic pain, I highly recommend going to at least one appointment with a pelvic floor physical therapist to receive an evaluation. Instead of just interpreting your pain as "my vagina hurts," a pelvic floor PT can give you insight into where exactly you're tight (left, right, front, back?) and give you a more nuanced understanding overall. 
You are planning on leading an event on the best yoga practices to minimize hot flashes, insomnia, and fatigue. Can you share a sneak peek with us?
For this event, I am collaborating with an OB-GYN. She will explain the physiology of these symptoms, and I will share a related yoga sequence. Here are my top three yoga pose recommendations for menopause: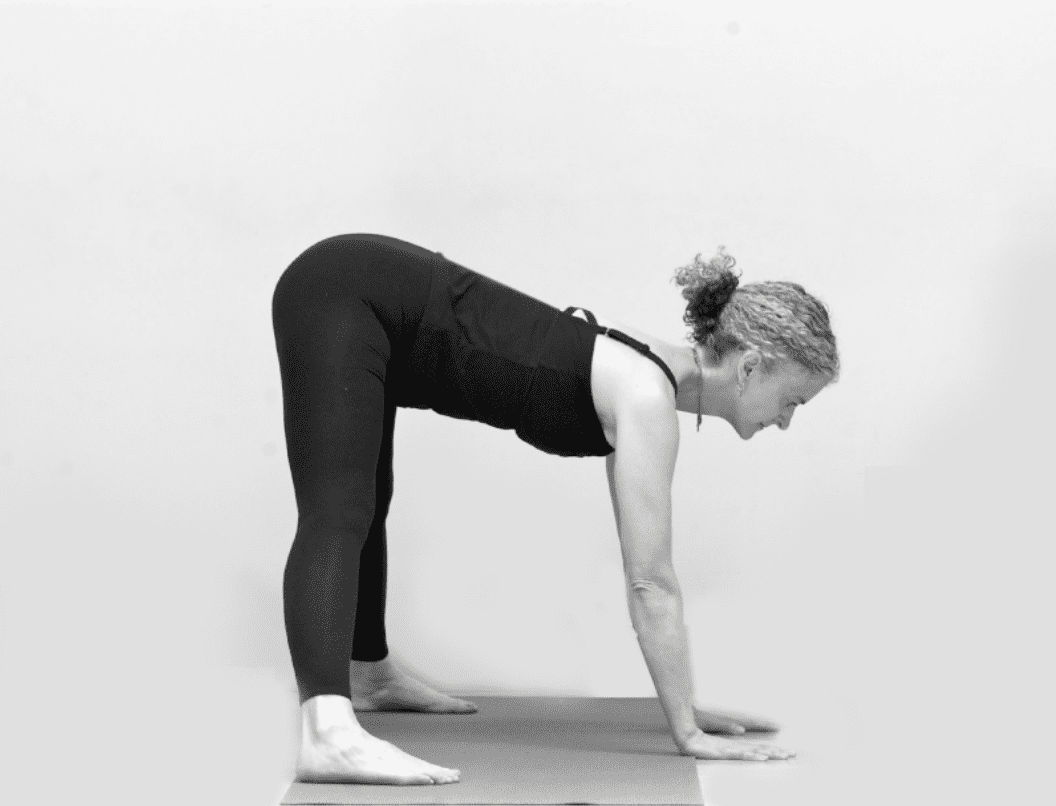 Insomnia & Emotional Stability 
Bend forward with your hands on the ground. Feel free to support your head on a chair in front of you.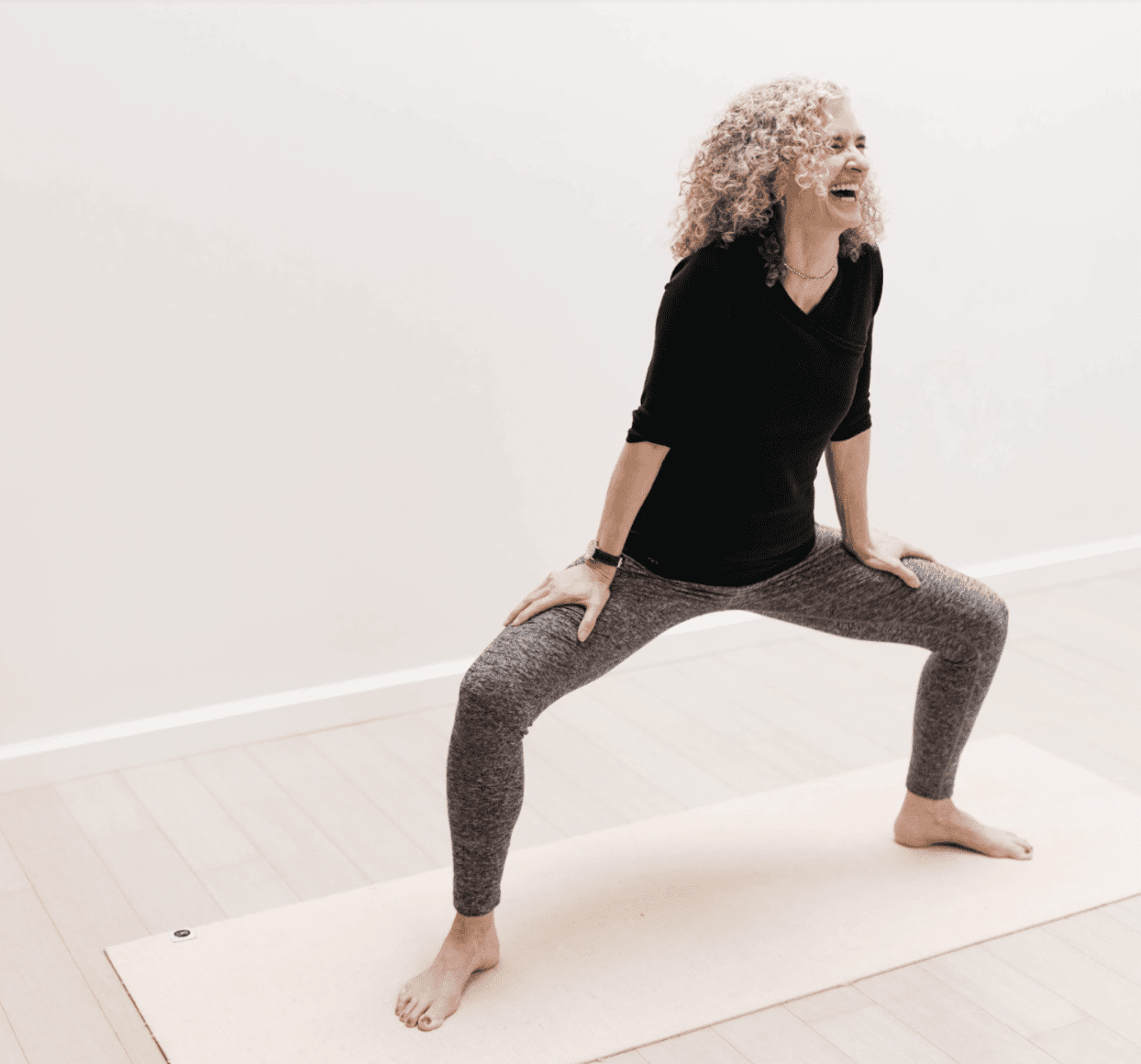 Vaginal vitality 
A goddess pose can help keep the vaginal walls flexible.
Hot flashes 
Close your right nostril and only breathe through your left nostril. The right nostril regulates heat, so when we breathe through our left nostril we open up a cooling channel.
You teach a workshop called "Mindful Menopause"—what's one action someone going through menopause can take to become more mindful?
I keep in mind the yogic principle that 'all we have is the present moment.' If you're suffering or feeling inconvenienced, remind yourself that it's temporary. We can get bogged down in the, OMG what if i get a hot flash during a presentation? Be in the moment.
I like to remind people that this is a relatively new problem because humans didn't used to live this long. Menopause can suck but it beats the alternative.
What are your favorite parts of menopause?
My favorite part of menopause is not worrying about getting pregnant and dealing with your period. This changes your perspective a lot on what's important in life. Looking back, I've made some not so great decisions that were colored by my hormones. Also, from a yogic perspective, the uterus is core to our creativity, and many people feel a spurt of creativity once they no longer feel the pressure to procreate.