We hope you had a restorative, hot flash-free holiday weekend!
Although the festivities may be over, there's still plenty of time to take advantage of the summer. We've gathered our top self-care tips to get you inspired, centered, and refreshed:
Elektra's Top 5 Summer Self-Care Tips
🪣 Create a summer bucket list. Grab a sheet of paper and take 10 minutes to brainstorm activities that energize you. Going to an amusement park? Taking a pottery class? Let your inner child run wild! Once the timer hits, schedule the activity that excites you the most in your calendar.
🕺🏻 Dance it out. According to a recent study from the North American Menopause Society, a three-times-weekly dance regimen can improve cholesterol levels, fitness, and self-image in postmenopausal women. So, consider this your prescription to bust a move.
🧹 Clean out your (social media) closet. We all know the benefits of keeping a tidy home, but what about a tidy social media feed The next time that 3am insomnia hits, take a moment to Marie Kondo your social media, and unfollow the accounts that no longer spark joy…
🤳🏽 Reach out to an old friend. Something about summer makes us feel nostalgic for the simplicity of childhood friendships. Take an afternoon to reach out to a friend you've been meaning to connect with. Hey, it's good for your hormonal health.
🧘🏾‍♀️ Breathe in…and breathe out. Cultivating a meditation practice can feel like a daunting task. But even taking 1-2 minutes of silence can relieve stress and can even help with your hot flashes. Interested in guided meditation? Try one of Elektra's favorite tools, Insight Timer, which has thousands of guided meditations that you can sort by your needs (anxiety, sleep, etc). Remember: it's not a quick fix. Be patient with yourself and trust that, over time, you'll begin seeing results.
---
What Else We're Reading
"It made me re-recognize the waste of time that non-acceptance of one's body is": Emma Thompson on unlearning toxic beauty standards and performative sexuality in her new movie, Good Luck to You, Leo Grande.
How to support your friend through divorce from a woman who's gone through it herself.
Male politicians in the UK try on hot flash vests and, surprise surprise, they did not like how it felt! Next up, brain fog! (just kidding).
Estrogen loss during menopause can impact bone health: take this quiz to figure out your osteoporosis care plan.
---
Healthy Obsessions
Created by a personal development coach, this planner provides coping strategies, journaling prompts, and symptom trackers to support you emotionally and physically during menopause.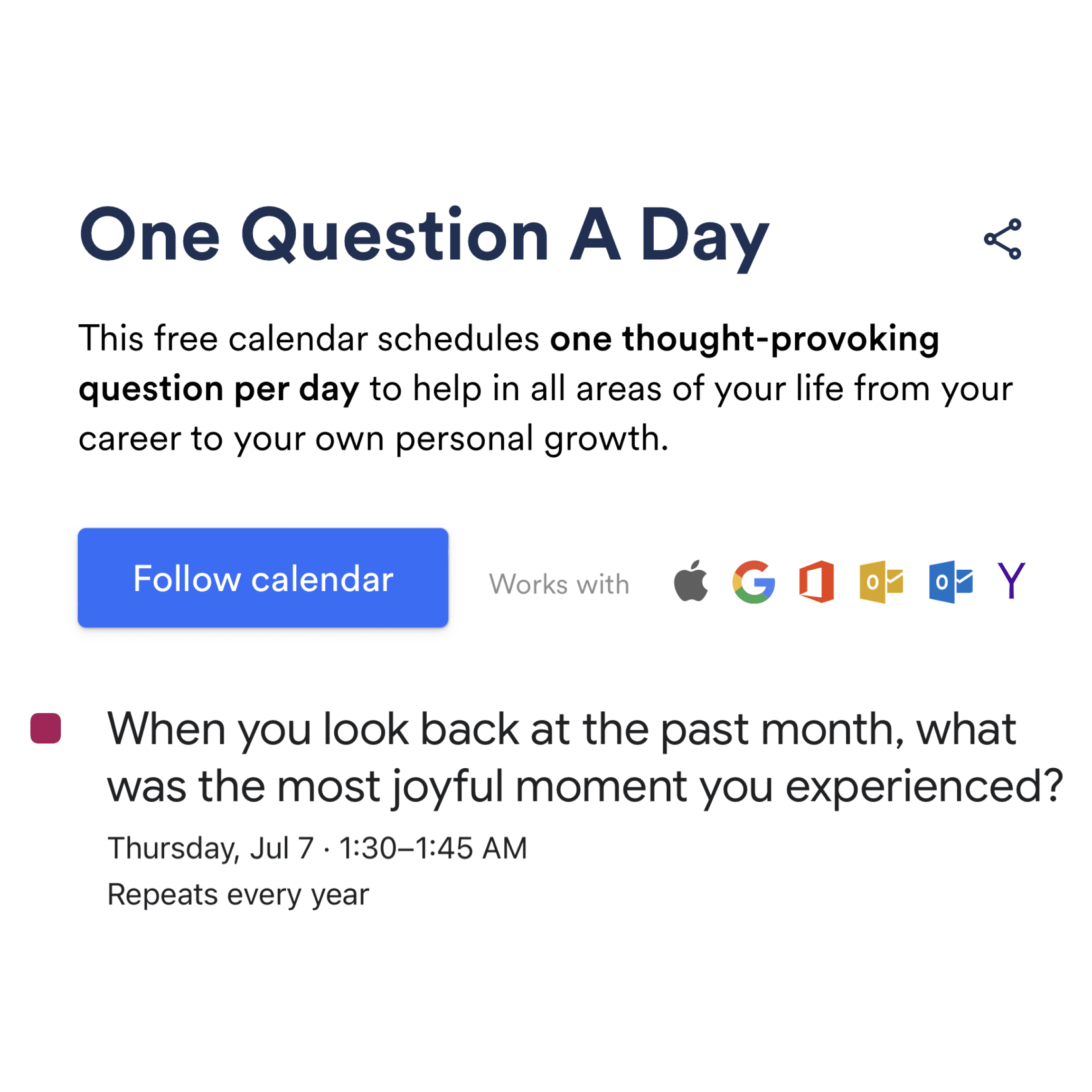 A free, subscribable calendar that schedules a daily thought-provoking question to help you pause and reflect on all areas of your life.
Today's question: When you look back at the past month, what was the most joyful moment you experienced?
---
Keep Calm and Elektra On