Although 50 million women are currently navigating menopause in the U.S. today, less than 20% of OB/GYN residency programs offer menopause training. (1) This widespread lack of training — coupled with overburdened providers and enduring stigmas around menopause and aging — results in a massive care gap (70% of women who seek menopause care do not receive adequate treatment). (2) Findings from Elektra's just-released Actuarial Menopause Cost Report — along with existing research and the lived experiences of women — confirm that menopause remains overwhelmingly under-diagnosed and under-treated.
Our study is the first of its kind in a decade to leverage a third-party actuarial firm to investigate the healthcare costs incurred by menopausal women ages 40 to 60 according to actuarial analysis of claims data. The report is based on the 2021 MarketScan Commercial Claims data (3) of 2.6 million women.
Key findings:
According to their insurance claims, only ~19% of women aged 40-60 received a clinical menopause diagnosis, even though up to 80% generally experience symptoms.
The population who received a clinical menopause diagnosis incurred 45% more healthcare costs, on average, per year. (4)
The average cost in total healthcare expenses for the diagnosed population was $4,637 higher than non-diagnosed.
Outpatient services (labs, radiology, etc.) see a 62% cost increase between diagnosed and undiagnosed, while clinical services see a 52% increase.
For patients diagnosed with menopause, comorbid conditions such as metabolic disorders, hypertension, and joint pain are both more prevalent and more costly: 37% and $2,572, 14% and $4,133, 38% and $3,965, respectively.




"Menopause costs are hiding in plain sight, and engaging women around their menopausal health has far-reaching implications. With proper menopause care, we can engage women around broader preventative health and chronic conditions, which worsen over time. In this way, menopause should be considered akin to other conditions driving significant costs, such as diabetes or hypertension."
— Alessandra Henderson, Co-Founder & CEO at Elektra Health
"We must collaborate with all stakeholders – patients, health plans, providers – to better address patients' symptoms, risk of chronic conditions, and limited access to informed care. Today, many menopausal women are seen by multiple specialists (e.g., neurology, psychiatry, cardiology) and undergo testing that may not be necessary nor recommended by the North American Menopause Society (5)."
— Jannine Versi, Co-Founder & COO at Elektra Health
---
Elektra is reimagining women's healthcare, starting with menopause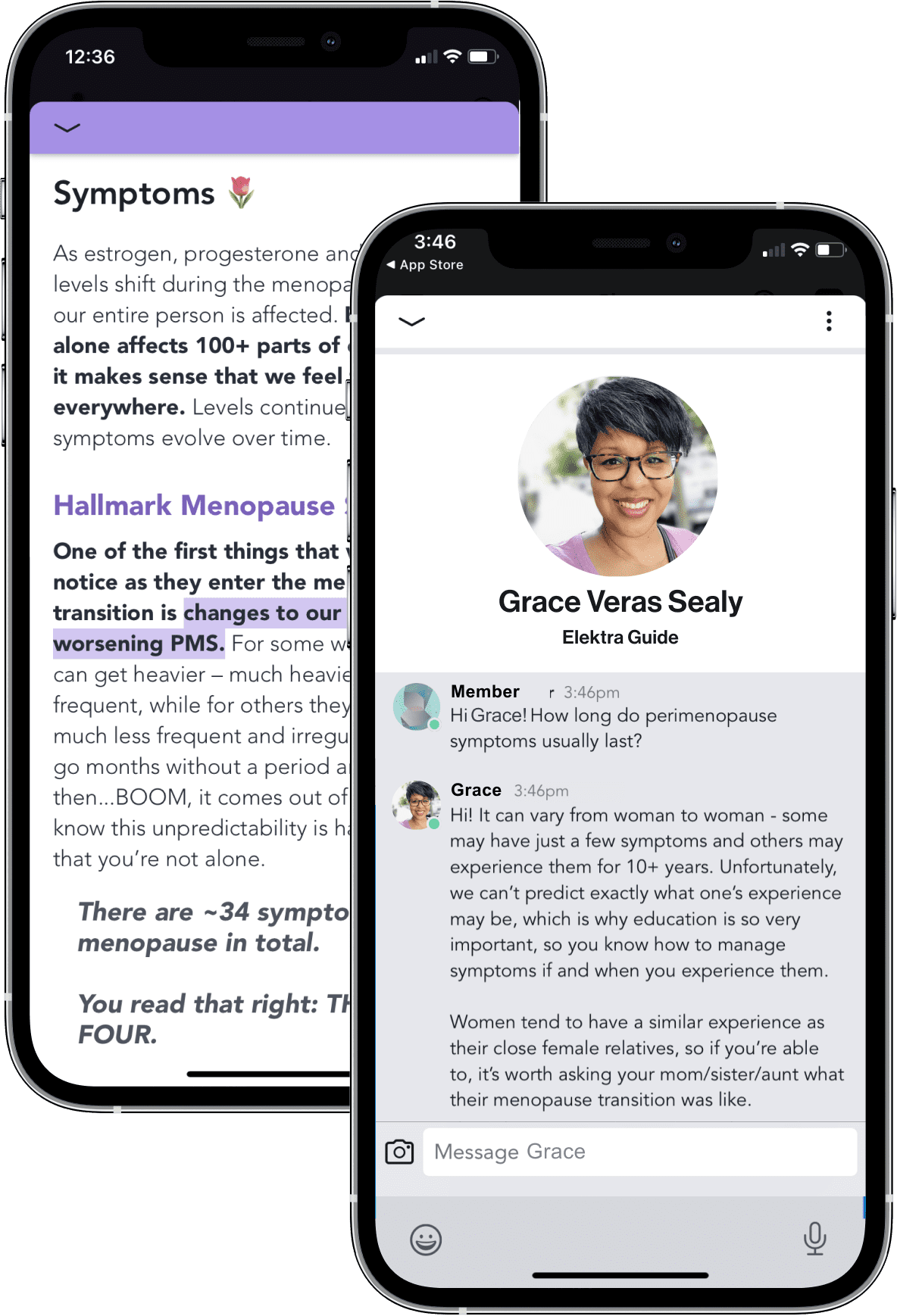 Elektra's end-to-end, virtual care model is built by menopause-trained gynecologists to engage women across every aspect of their health journey. By addressing root causes, it helps improve outcomes and reduce costs in this time of transition and for decades beyond.
What's included:
Dedicated 1:1 expertise
On-demand, unlimited support from menopause-trained experts (video & chat).
Personalized recommendations
Clinically-vetted wellness plans, education & recommendations to manage symptoms & health.
Supportive peer community
Private, moderated discussions & expert-led virtual events.
Forward-thinking payers (Mass General Brigham Health Plan, Emblem Health) and employers (LVMH, Reddit, AlixPartners, Guidewire) partner with Elektra to ensure inclusive, equitable care across a women's life.
Interested in partnering with Elektra? We'd love to chat.
---
Citations
Christianson M, et al. Menopause education: needs assessment of American obstetrics and gynecology residents. Menopause. 2013;20(11):1120-5. doi:10.1097/GME.0b013e31828ced7f

Sarrel P, et al. Incremental direct and indirect costs of untreated vasomotor symptoms. Menopause. 2015;22(3):260-266. doi:10.1097/GME.0000000000000320

Merative™ MarketScan® Commercial Claims Database provides one of the longest-running and largest collections of proprietary de-identified claims data for privately and publicly insured people in the U.S. The Commercial Claims Database includes over 25M members' eligibility and claims data from employer-sponsored plans.

Santoro N, et al. Menopausal Symptoms And Their Management. Endocrinol Metab Clin North Am. 2015; 44(3): 497 – 515. doi: 10.1016/j.ecl.2015.05.001. 

NAMS Position Statement. Menopause. 2022; 29(7): 767-794. doi: 10.1097/GME.0000000000002028